About 2,000 people on Aug. 6 gathered at the Cultural Palace in Amman, the capital of Jordan. Despite the scorching heat of over 40 degrees Celsius, their faces were filled with excitement and anticipation, with many holding signs reading "Jordan, B.I.G" in Hangeul.
The throng of people had formed a queue from morning to see the K-pop boy band B.I.G in concert at 5 p.m. that day.
B.I.G is the first K-pop group to hold a solo concert in Jordan. Debuting in 2014 and comprising members J-Hoon, Gunmin, Heedo and Jinseok, the quartet is especially popular in the Arab world for singing in Arabic.

Since early 2019, B.I.G has pursued a "global cover project" by uploading on social media covers of Arabic songs such as "La Bezzaf," "LM3ALLEM" and "3 Daqat." The cover of "3 Daqat" has received an explosive respond of 14.8 million views.
In December 2019, the group gained recognition for promoting K-pop in the Arab region and received an award for "Koreans who make their country shine."

The Cultural Palace, where the group held its concert, is a leading cultural landmark of Amman that hosts large conferences both domestic and international as well as major cultural, social and artistic events. B.I.G performed for about an hour in Arabic and Korean, singing songs like "Flashback" and "1,2,3" in Korean and "Illusion" in Arabic and receiving thunderous applause from the estimated 2,000 spectators.
B.I.G. thrilled its Jordanian audience through its charismatic performances and stage presence as fans kept shouting "B.I.G" to create a heated atmosphere.

Farah Hamasha, 28, who called herself a big fan of B.I.G, said, "You have no idea how amazing it is for B.I.G. to be interested in Arabic and study and sing songs in our language."

"I also started getting highly interested in Korean history and civilization by reading many things about them and learned Korean," she added. "Today's performance was really the best and the entire audience was enthusiastic."

Salem Mohamed, 35, said, "This is my first time listening to Koreans singing songs in Arabic. I want to thank B.I.G for being interested in their Arab fans," adding, "I liked the group's songs and dancing, and the members' stage presence was great."

Honorary Reporter from Jordan Noor Kharabsheh, who covered the event for Korea.net, said, "B.I.G's dancing and singing were perfect and their performance was the best," adding, "I was surprised by the group's professionalism as they sang Arabic songs so fluently."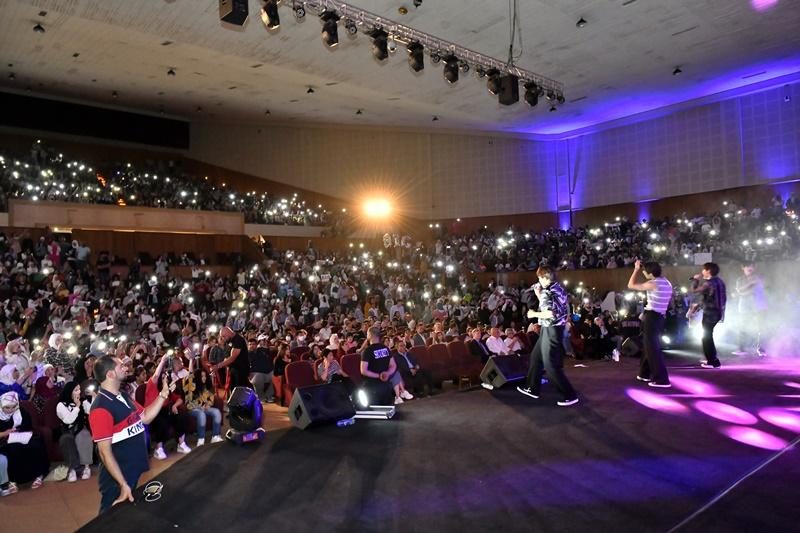 The concert was hosted by the Korean Embassy in Jordan to mark the 60th anniversary of ties between Korea and Jordan. Korean Ambassador to Amman Lee Jae-wan, Jordanian Minister of Social Development Ayman Mufleh and Jordanian Minister of Digital Economy and Entrepreneurship Ahmad Al Hanandeh attended the concert, which received massive coverage from the Arab country's broadcast and print media.

The state-run Jordan News Agency (Petra) said, "(The concert) captivated its audience of young men and women."

Mshaheer Kpop, a YouTube channel with 1.29 million subscribers, also livestreamed the event to show the event's high energy in real time.

Earlier on Aug. 5, B.I.G had performed on the main stage of the Jerash Festival in the ancient city of Jerash in northern Jordan. Hosted by Jordan's Ministry of Culture, the event is the nation's largest cultural festival and B.I.G's concert was filled with about 3,000 spectators.
B.I.G. on Aug. 5 holds its main performance at the Jerash Festival in the northern ancient city of Jerash in Jordan. Honorary Reporter from Jordan Aseel Khaled also captured on video the heated atmosphere at the venue.
Ambassador Lee said, "I believe that the B.I.G concert provides a meaningful opportunity for Jordanian youth who yearn for Korean culture to enjoy Hallyu culture and form cultural solidarity."
The boy band in October will meet more of its Arab fans through a regional tour spanning Saudi Arabia, the United Arab Emirates, Qatar and Jordan.
Copyright © WalkintoKorea - Korea Tourism. All Rights Reserved.