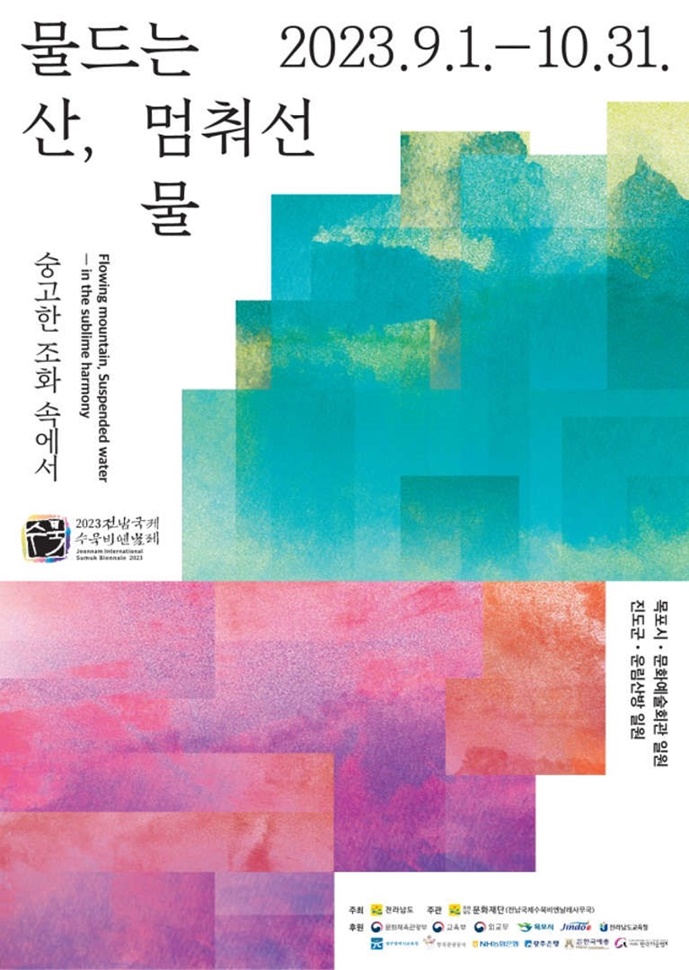 Poster for Jeonnam International Sumuk Biennale (Courtesy of Jeonnam International Sumuk Biennale Organizing Committee)
The Jeonnam International Sumuk Biennale has been underway since September 1 and will run through October 31 with the theme "Flowing Mountain, Suspended Water – in the sublime harmony." Various cities and counties in Jeollanam-do Province have been hosting the event – Korea's first international art festival centering on sumuk.
Sumuk (ink wash painting) utilizes traditional East Asian materials like paper, silk and brushes and emphasizes the use of light and shading. Sumuk paintings are distinctive in the value they place on voids, lines and the artist's expression of a spiritual world. They fall into several sub-genres, including gungjeong (court), jingyeong (real landscape) and munin (literal artistic style).
The ongoing biennale has 80 sumuk works on display, including "Four Seasons" by Oh Yong-gil and "Seonyudo Waltz" by Seong Tae-hun. The former features eight screens that visualize seasonal changes and the process of growth in humans, while the latter conveys human life, the 1945 division of the Peninsula and other turbulent moments from Korea's history through depictions of waltzes. Another crown jewel of the exhibition is Kwon Se-jin's "1482 Drawings Forming the Sea," which shows a natural ocean scene formed from 1482 separate abstract images.
Korean sumuk is believed to have blossomed under the influence of Southern School literati paintings of China's Song and Yuan dynasties during the late Goryeo Kingdom (918-1392). Later, An Gyeon, Yun Du-seo and Kim Hong-do from the Joseon Dynasty (1392-1910) played a vital role in developing the so-called "Joseon-style sumuk." An's "Mongyu Dowondo" (A Dream Journey to the Peach Blossom Land)" and Kim's "Mudong" (Dancing Boy) are emblematic sumuk paintings from that period.
Thanks to quality artwork and a growing interest in traditional paintings, the Jeonnam International Sumuk Biennale is making waves, garnering more than 200,000 visitors in just 26 days. It is soon expected to surpass the 400,000 mark – the goal set by organizers before the opening.
The exhibition is mainly taking place at the Nojeokbong Art Park Center and five other venues in and around Mokpo and Jindo in Korea's southwest corner. At the Mokpo Culture & Arts Museum, visitors can immerse themselves in meditation and enjoy a moment of healing while appreciating sumuk paintings by acclaimed Korean and foreign artists. The Hall of Popular Music is showcasing sumuk works by 30 college students and 51 children.
Other related programs include the Sumuk Fashion Show at the Mokpo Cultural Arts Center, which features outfits adorned with sumuk paintings. The center also offers a session where sumuk artists interact with visitors to help them better grasp the world of traditional art.
"With our ongoing exhibition, we want to further promote sumuk and bring this culture into our daily lives," the biennale's director Lee Geon-su said. "We need to popularize and brand our sumuk and take it out into the world."
Copyright © WalkintoKorea - Your Glocal Partner. All Rights Reserved.